flash sale today only! all candles $13.50 each :)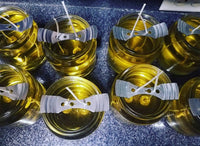 About Lumi Bean Candles
Lumi Bean Candles are hand poured in Jacksonville, FL!
*Clean Burning No toxins, carcinogens or pollutants which means our candles are less likely to trigger allergies. No petro carbon soot like you get from petroleum based paraffin candles!
*Biodegradable and water soluble Since our candles are made out of soybeans, they are naturally biodegradable which makes accidental spills easier to clean with just hot water & soap!
*Long lasting Soy wax burns cooler which means that you can enjoy your soy wax candle for generally 50% longer than a paraffin candle!
*Our soy wax is certified kosher, contains no herbicides, pesticides or genetically modified materials!
*No lead or zinc cored wicks! Our wicks are pure triple braided cotton wicks!
*We only use high quality fragrance and essential oils!